Microclover®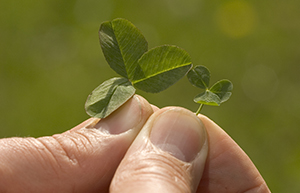 As one of the few plant species clover is producing its own nitrogen fertiliser and it has the ability to stay green during dry spells.
In poor maintained lawns clover therefore cause very visible dark green patches. Most people dislike these patches. However, try to imagine that the whole lawn could be as dark green and lush as the clover patches.
With Microclover® this is possible – and even with minimum effort. This unique small leaved MICROCLOVER® is developed by DLF specifically for use in turf areas and has a special ability to grow in between the grass plants, keep an even distribution over the lawn and supply the grass with all the nitrogen it needs. Furthermore, it keeps the lawn dense and thereby it decreases the amount of weeds.
Microclover® is not only suited for home lawns, but also in public areas like parks as well as in municipal sport areas (football, rugby…) - where it will save costs for bringing out and purchase nitrogen fertiliser.
With Microclover®, maintenance becomes easier and more sustainable as it requires less input in terms of fertilisers and water.
Discover products with Microclover®.
Read more about Pipolina – our Microclover® variety.
Read more extended information in our Microclover® brochure.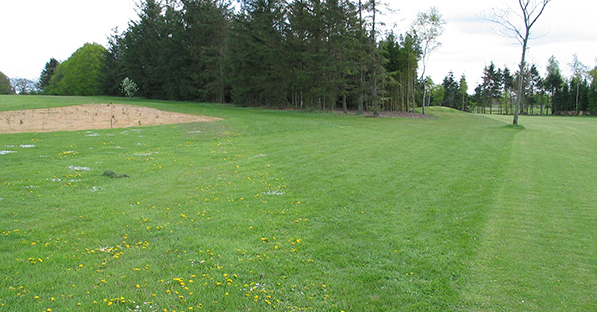 Microclover® suppresses establishment of weeds.
Demo trials at DLF's research facilities in France clearly show the benefit of having Microclover® in the grass mixtures. The trial is fertilised with 200 kg N/ha, and as the photos illustrate the plots containing Microclover® still show the very best density and spring green up in March.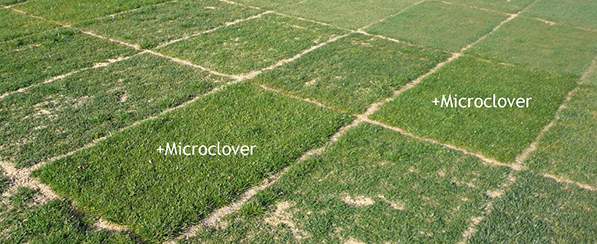 The two plots with Microclover® are greener, 'thicker' and free of diseases...What would you prefer for your pitch?