ProNitro® – DLF's super-efficient new pelleted N seed coating
The development of fertiliser seed coatings is a DLF speciality. In our new ProNitro® seed coating, we have given each seed its own 'packed lunch' of nitrogen.
7. 10. 2015

In ProNitro® 15,0 we have added a mixture of slow and fast-release nitrogen plus pelleting material to each batch of seeds. For every 100kg of uncoated seed, the coatings add an extra 54kg in weight of which 10% is nitrogen (15% in the coating).
Adding nitrogen directly to the seed can be as much as four times more efficient than broadcast fertilisation. The nitrogen feeds the seed, not the weed in the ground, and seedling roots do not have to go searching for their nitrogen, the number-one fertiliser for fast establishment.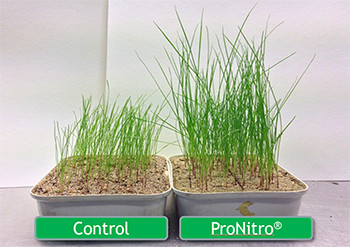 In Europe-wide trials, ProNitro® seed coating proved to be efficient and cost-effective:
Saves time and money because sowing and fertilisation are a single operation.
Better seed-to-soil contact because seeds are heavier.
Faster and denser growth – up to 30% more plants in DLF trials.
Fewer weeds during establishment – ProNitro® gives sown seed a competitive advantage.
Highly efficient use of nitrogen with reduced risk of leaching to ground water and surroundings.
Increased forage yields.
Better wear tolerance in turf – up to 30% longer roots in DLF trials.

Tests also showed that the surface treatment does not affect the ability of the seed to flow easily. Dust was also eliminated.
ProNitro® is a unique product with a wide range of uses:
Sod/turf production: faster establishment means faster production and less Poa annua in end product.
Forage maintenance: safer overseeding of grassland with faster establishment of new plants in old swards.
Golf greens and football pitches: easier establishment in low-fertility, sandy soils.
Lawns: easier sowing of weightier seeds followed by speedier establishment and greening up.