The preferred supplier to top sports events
If you are a sports fan, you will have cheered your team to victory on DLF turf. In the past year, the world's most thrilling action has been played on turf grown from our seed.
7. 10. 2015

During June and July, the Czech Republic hosted EURO U21, a showcase for Europe's most talented young footballers. Earlier in the year, Chile hosted the 2015 Copa América – South America's top footballing championship. Since the Copa América's most northerly and southerly venues were more than 1.700 km apart, the turf had to be highly adaptable. Luckily the Copa América team chose 4turf®, a sports mixture that flourishes under a variety of climates.
At the time of writing, the Rugby World Cup 2015 is taking place in England. To withstand such severe wear, the tournament's 13 stadia need an exceptional turf. So it is no surprise to learn that all 13 have been overseeded with our super-strong mixtures. The final will be at Twickenham Stadium on 31 October.

Back-garden players will love our limited-edition '2016' Turfline® mixture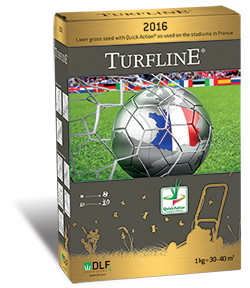 Next summer we look forward to EURO 2016 in France. One international team is guaranteed to make it through the group stages: DLF sports turf grasses have already qualified for the finals. Between the games, football-loving gardeners can recreate the action on their own private sports lawns when we launch our '2016' Turfline® mixture. It contains Quick Action® that is used on the football stadia in France. Talk to your DLF contact and find out more about next summer's most sought-after, limited-edition, grass seed mixture.