New seed-technology lab supports more world-class research
By bringing our seed-technology research teams together in a state-of-the-art new lab, we can do even more world-class research. The lab's precisely controlled conditions give researchers a chance to test seed-technology products for real-world performance.
07-02-2019

More science for even better seeds
DLF is a business built on science and customer needs. The seed-technology products that we develop help customers grow better amenity and forage grasses, alfalfa, and clover for a wide range of climates and terrains. Our seed treatments play a vital supporting role in seed performance. They add value to our high-quality seeds, helping to express their full genetic potential during the early stages of growth. To develop and test even more of these world-class products we've completely redeveloped our seed-technology lab at Kapelle in the Netherlands.

Centralised seed-technology laboratory
Ten years ago, when seed coatings were new to the grass-seed industry, we undertook quality-control tests within our regular laboratory work. Over the years, as the volume and extent of the testing grew, we spread the work across several DLF locations in Kapelle. To be more efficient and bring all the strands of testing together, we've now centralised in our new world-class laboratory in Kapelle.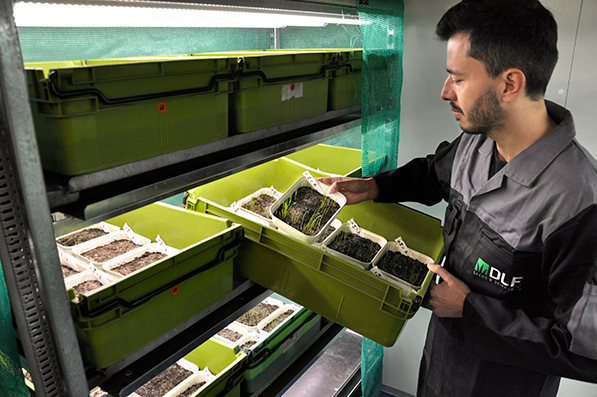 The new lab provides far more scope for testing. The environmental conditions, which include an installation for simulated rainfall, are precisely controllable. With full control over our test environment we can learn much more about the influence of coatings on the germination and growth of the grass seed.

Effective quality control on ProNitro®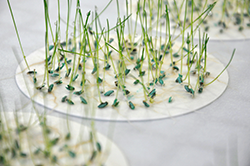 Our ProNitro® coating is a starting support pack for seeds that really need to get ahead. It gives our seeds the nutrients they need to develop quickly and establish effectively. In our seed-technology laboratory we test the performance of coated seeds – characteristics such as the speed of growth after sowing, the strength of coating, and the flowability of coated seeds.

Click here to learn more about seed treatment for turf
Click here to learn more about seed treatment for forage

A bright future for seed technology
Better testing will ultimately produce better seeds. In our new seed-technology lab we can test existing coatings as well as experimental coatings at the forefront of seed technology. At Kapelle our researchers will be driving the performance-enhancing developments of the future.
To find out more about how DLF's seed treatments and products, contact your local area manager