Breeder's Corner - alfalfa
Alfalfa is already an economically useful crop, but there is plenty more we can do to improve it.
23. 2. 2017

Selective breeding improves alfalfa's performance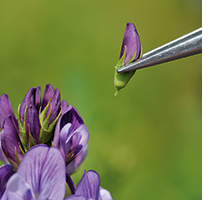 Right now we are conducting a series of worldwide trials to learn more about the yield levels, disease resistance and winter hardiness of our existing portfolio – and to pave the way for new and improved varieties.
At our breeding centre in northern France we have recently invested in the well-known genepool from Florimond-Desprez. And in many countries across Europe we are conducting a range of national variety trials.
In our current programme, the main germ plasm comes from varieties with a dormancy score in the range 4 to 5. This is the most common type used across much of Central, Eastern and Northern Europe.

DLF breeding programme
Our breeding programme aims to raise performance in the following areas:
Improve dry-matter yield

Improve feeding quality

Raised protein content
Better digestibility


Improve lodging resistance (standability)

Strengthen robust triple resistance to:

Stem nematodes
Verticillium
Colletotrichum (anthracnose)

Some of the registered varieties

Click here to read more about our alfalfa varieties.
Find a ForageMax® mixture containing alfalfa.
(Use the filter by ticking off 'Alfalfa' on the left side of the page).