New generation of festulolium brings feed of high value
In a ryegrass world, the good question is, of course, whether a crossing of ryegrass with fescue is able to deliver the quality of forage demanded by the dairy farmer and his high-yielding cows. And at the same time express the better longevity of the fescue partner in the crossing.
09-12-2016

This is certainly possible and recent studies by DLF confirm this again. We already know that the yield in festulolium of the tall fescue type, is 15-30% higher than in perennial ryegrass in 2nd and 3rd year of use. But now we can see that with the new generation of festulolium varieties, feeding value is closer to ryegrass than to tall fescue, and this is a break-through for our breeding.


5% points higher NDF digestibility
One of the most important criteria when feeding cattle is the digestibility of cell walls, DNDF. The figure below shows that the DNDF level for festulolium, type tall fescue is at the level of perennial ryegrass and around 5% points higher than tall fescue. Research has shown that for each %-point NDF digestibility is increased, the animal forage intake goes up and consequently milk yield increases with around ¼ litres per cow per day.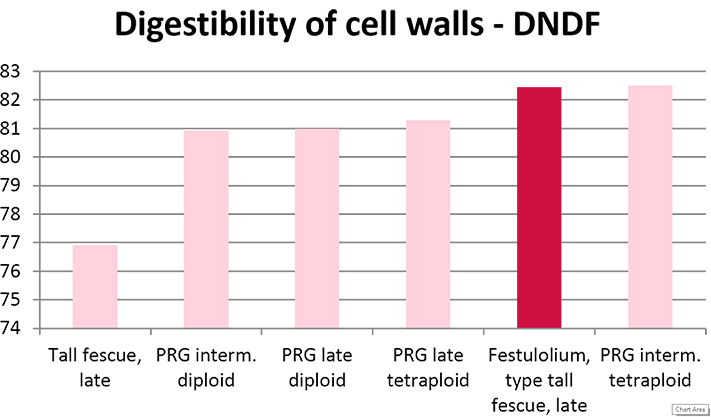 DNDF in varieties of intermediate and late perennial ryegrass compared with varieties of late festulolium, tall fescue type and of late tall fescue. Trials at DLF 2015-16.

The new generation of festulolium, tall fescue type from DLF, is clearly setting new standards for grassland.
Click here to see ForageMax® mixtures with festulolium.

More than the sum of its parts
Depending on the variety and the growing conditions, festulolium provides 5-25% more forage and better persistency for one to two years more. Festulolium stands up better against winter frosts, drought, and disease. Festulolium offers an increased output per hectare and a better feed value.


The main features and types of festulolium
Festulolium is a successful cross between fescue and ryegrass. It works because the hybrid performs better than its individual components. Festulolium is an example of how you can add two and two to make five.
Very rapid establishment similar to Italian ryegrass
Similar or better forage quality than Italian ryegrass
Higher yield than perennial ryegrass
Can be used as a direct replacement for ryegrasses in mixtures for up to three years and with the added benefits of higher yield, better stress tolerance and persistency
Deep rooting = similar drought tolerance to cocksfoot and tall fescue
Early spring growth, no stems in re-growth
Feeding value better than tall fescue
Suited for dry or stressed environments where yield is the primary driver.
Can be used as replacement for tall or meadow fescue, improving forage quality or as supplement to perennial ryegrass with an improved persistency
Click here to read more about the properties of festulolium.