The supply chain copes with a spring like no other
Demand for spring forage experienced a strong early boost caused by a mixture of drought, mice, bugs and a short and mild winter. At the same time – in the midst of our peak season – demand for consumer mixtures surged to fulfil 'stay-home' orders during the Covid-19 outbreak. It was a challenging time, but we stuck to our priorities: business continuity and the health and safety of employees.
16/06/2020
An excellent 2019 Danish harvest satisfies outstandingly high demand for grass and clover seed

The harvest of 2019 was just what we needed to build up buffer stocks to overcome the low late-June inventories of the last couple of years. Instead it helped to cover the spring season's unusually high demand for forage as well as consumer and turf mixtures. Everyone – dairy and cattle farmers, supermarkets, discounters, DIY stores and garden-centres – put in big, early orders.
Covid-19 hits at peak season, but our supply chain performed
Measures to combat Covid-19, such as the closing of garden and DIY chains and restrictions on border crossings, disrupted the normal flow of seed. But good communications with customers and the authorities, together with the 'EU Green-Lanes policy' for agricultural products helped a smooth delivery of seed.
The introduction of special health and security plans at DLF warehouses and at customer and partner facilities secured a steady flow of seed to point of sale. To make it easier for partners, our customer portal, MyDLF, provided up-to-date information on allocations, certificates, order books and accounts.
TURF: Increased demand for DLF mixtures – and for DLF quality
The big spring demand for turf mixtures and straights, driven by last year's drought and a short, mild winter, came through various sales channels. Garden work became instantly popular among people forced to stay at home. Despite the temporary closure of garden centres and DIY stores, our turf mixtures found their way to customers through supermarkets, discounters and online stores.

A shortage of all red fescue sub-species – creeping, slender and chewings – forced an increase in the share of perennial ryegrass, especially 4turf® varieties, to the maximum level within standard mixtures.
A limited overseas supply kept prices firm for turf-type tall fescues, while growing supply and demand for smooth-stalked meadow grass has held prices stable.

All professional turf varieties bearing the DLF Select quality mark sold well. Although supply was short, it was matched by lower demand from the professional sector.
FORAGE: Shortage of cattle fodder boosted the mixture market
Across Europe, demand for forage mixtures was high. The market drivers were drought damage during the summer of 2019, compounded by an increase in the mouse population that ruined so many northern European fields.
As a result, prices for recommended forage species and varieties increased throughout the season. The effect spilled over to mixtures containing moderately priced, non-recommended varieties. Increased demand in this segment kept prices stable.

While timothy and meadow fescue were nearly sold out, DLF's Festuloliums, Ryegrass PLUS and Tall fescue PLUS, increased their market share.

Recommended Italian and annual ryegrass varieties were in short supply.

Prices for listed and recommended varieties of smooth-stalked meadow grass were firm through lack of lack of choice and a limited harvest from 2019. A knock-on effect was an increase in demand for non-recommended varieties.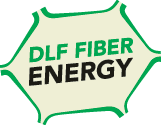 Many popular perennial ryegrass varieties sold out fast, especially the Fiber Energy varieties, which will benefit farmers with increased milk and meat production. Even some of our new and not-yet-classified varieties found their way to market. Demand for not-recommended varieties remained also quite firm, due to limited and late supply from 3.-country production.
The EU market share of cocksfoot was similar to previous years. But a good harvest and fewer exports reduced prices from the highs of the past few years.
European harvest 2020: very dry in top producing countries
After a winter of low rainfall in central Europe and plenty of rain in Scandinavia, spring turned dry. In Denmark there was a six-week period without rain from mid-March till the end of April. Right now (beginning of June) Danish crops are doing okay. But we've reached the early flowering stage and the weather has turned dry again (see drought map below), which means that crops will struggle during the seed-filling period. We're expecting a normal harvest – but it all depends on the weather in the coming weeks.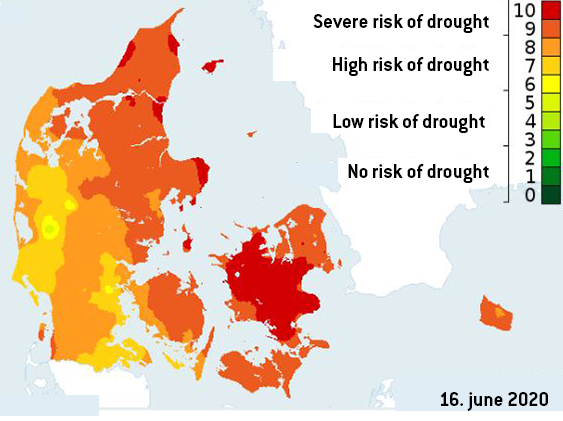 Source: www.dmi.dk
Since The Netherlands season is earlier - and the drought starts earlier - crops are already starting to suffer from the extreme drought that's been in play since early March. Suffering the most are mainly turf types of perennial ryegrass and the late sowings. Yields are estimated to be down by 10% to 20%.
It has also been dry in Poland and the Czech Republic, with wide differences between the various production areas. Overall we expect a below-normal harvest.
Outlook: Summer business should be good!?
Stocks at all stages of the supply chain are currently low. Since we expect demand to continue into the fifth quarter, July to September, stocks will fall even lower. The effect of the spring drought on the 2020 European harvest is hard to predict. In some production areas it may well reduce yield.
Reports of overseas production vary. Canada has had a very cold and dry spring, and we hear of poorly established timothy fields. Oregon production is looking promising, while offers from New Zealand are quite limited for prompt and crop 2021.
All in all, the market for grass and clover seed seems to be in good balance. Hopefully we can look forward to a good 2020 harvest.
But we have been through difficult times this year which makes it hard to foresee the near future. With so many cancelled or postponed congresses and meetings, it's more vital than ever to keep in close touch with your supply-chain partners.
We can help. For more detailed business insights, call your local DLF sales representative. They'll be delighted to pass on their market knowledge.