A third year of poor harvest and continuing drought puts pressure on 2019
Across northern Europe, record low levels of rain led to parched fields and low yields. Some species did better than others. But if dry weather continues, the 2019 harvest could also be under pressure. Our analysis of this year's harvest is essential reading.
Record drought cuts yields across northern Europe
Northern Europe has just experienced its worst-ever drought. In May, June, and July, the Danish National Meteorological Station recorded record-breaking low levels of rainfall. The map below shows just how bad conditions were in Denmark in late July. This exceptional weather has led to a reduction in grass-seed yields in Denmark, Sweden, Poland, and the northern part of Germany.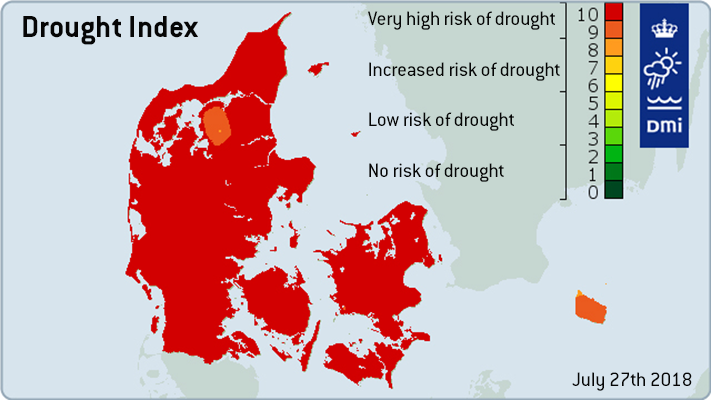 Although yields in Denmark are down, there was fine weather for harvesting: moisture content and quality were good.
The species most affected by the drought was smooth-stalked meadow grass. Yields were down dramatically, especially for turf types. Another low-yielding crop was perennial ryegrass.
In comparison, cocksfoot and red fescue did surprisingly well, with just-below-normal harvests. White clover also produced relatively good yields, just below normal.
Sweden and Poland have also reported yield reductions of between 15% and 20%, whereas the Netherlands had an almost normal harvest.
Below average yields in North America
Reports from the US say that yields of annual ryegrass are normal to below average; perennial ryegrass yields are poor to very poor; and tall fescue yields are below average. Yields in Canada are variable, depending on the extent of early rain, but seem to be down by one third.
Concerns over the 2019 harvest
The big worry in Denmark is now for the 2019 harvest. With little rain so far in August, the soil has become extremely dry, which could prove fatal for stands newly seeded for next year's harvest.
Alfalfa and Festulolium – drought-resistant crops for a dry continent
If summer 2018 is a sample of what's to come in future years, it could be time to think about introducing new species or varieties to your farm. We look at how alfalfa and festulolium can help you deal with dry summers.
Alfalfa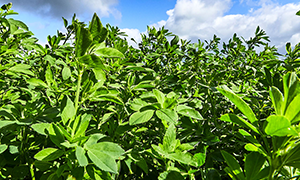 Deep-rooting alfalfa is an ideal crop for dry conditions. It continues to grow when moisture levels are low and temperatures are high. Nevertheless, alfalfa tends to be under-used, even in countries where it's a more traditional crop.
In France, for example, alfalfa is much less popular than it used to be. In the 1960s, the area given over to alfalfa was four times greater than it is today. Many French regions barely grow the crop at all and as a result, French farmers lack forage during dry periods.
Every farm should experiment with 5 to 10 ha of alfalfa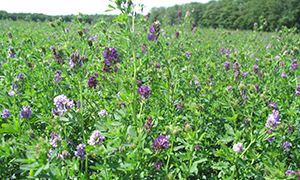 In northern Europe, where alfalfa continues to be
a minor crop, it's time for change. We think every farm should consider planting between 5 and 10 hectares of alfalfa. That's just enough for newcomers to learn how to grow this persistent (4 to 5 years) crop.
Alfalfa offers numerous agricultural benefits. It improves the soil structure and helps farmers become more protein self-sufficient. Prices are good too. The 2018 drought and a pessimistic forecast for silage maize have improved the value of alfalfa as a cash crop. When you put all these factors together, it's hard to find an argument for not introducing alfalfa into your rotation.
Festulolium
At DLF we're preparing for more extreme weather by improving the performance of grasses such as festulolium. When the ground dries out, it's not uncommon to see Festulolium remaining green and healthy due to its long roots.
Two types of Festulolium
Festulolium varieties are multi-purpose grasses based on a broad genetic mix, but with very different purposes depending on the parent species. At DLF we market two types of Festulolium; ryegrass and tall fescue. The two types are never to be compared to each other, but instead to each of the parent species respectively.
This year we launch the two types under the names Ryegrass PLUS and Tall fescue PLUS – the PLUS because we offer improved characteristics compared to the original parent species. So when planning a sward, it's helpful to think of these as substitutes for ryegrasses and tall fescues respectively.
Tall fescue PLUS

Tall fescue PLUS is particularly good for ruminants and grazing. The plants get their long roots and stress tolerance from tall fescue and their high feeding quality from ryegrass. Particularly, two varieties, FOJTAN and HIPAST, offer the high feed value and good persistency. Both varieties can withstand extreme conditions and still provide good feed-value forage.
Ryegrass PLUS

Ryegrass PLUS is particularly good for cutting and producing high quality forage. The high yield and feeding value combined with longer roots, which give the plants excellent and vigorous growth and fast recovery after cut.
To prepare yourself for more dry seasons, add either Ryegrass PLUS or Tall fescue PLUS to your forage mixes. You'll be joining the many farmers across Europe, the United States, and Africa who have already discovered its usefulness.
To read more about Festulolium click here
Please contact your local DLF representative to get advice for your regional conditions.